RUGER Single Six scope mount
Fits Super Single Six, Single 10, Single 9,
Single Six .17 HMR GP-100 .22LR Only

WEIG-A-TINNY

®

Style

RUGER Single Six, Single 9, Single 10 and Single Six .17 HMR GP-100 .22LR ONLY scope mount

NOTE:
If Ordering For GP-100 in .22LR Please Add Note To Shopping Cart, Additional Hardware Required

PLEASE NOTE: This mount is not intended for use on the RUGER Single 7 .327 Federal Magnum

Our Ruger Redhawk Drill and Tap Mount Will Work For That Application, Click The Following Link For Details
Ruger Redhawk Blackhawk Bisley GP-100 Scope Mount
Finally a no drill and tap WEIG-A-TINNY® style scope mount for the Single Six. This Single Six scope mount requires no drilling or tapping of your frame. Handsome, lightweight and durable. Blends beautifully with the lines of the Ruger frame. Accepts all Weaver and most Picatinny style rings and accessories. 4-1/2" long, available in black or silver, matte anodized finish, weighs 1.3 ounces.
This scope mount attaches to the rear sight elevation adjusting screw hole. You first remove the single six rear sight and replace it with our scope mount. Then insert the supplied screw into the elevation adjusting screw hole and tighten. In the front there is a nylon tipped set screw, that gets adjusted down just until it touches the top strap.* All of the testing of this mount was done with .22 Magnum without a single issue. We have sold hundreds of these mounts with tremendous success.
*Over tightening of the set screw can cause point of impact problems. It will cause the revolver to hit low.
.22 LR, .22 Magnum, .32 H&R Mag, .17 HMR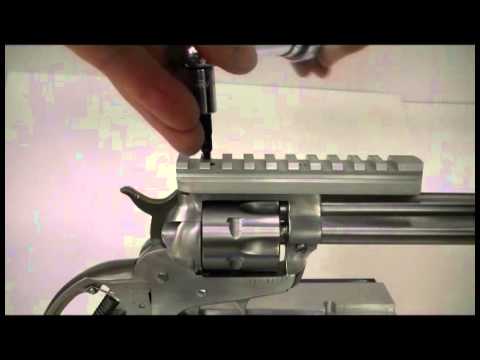 Installation Video
Accessories
Allen Wrench Set

1/16, 5/64, 3/32, 7/64, 1/8
Covers all Weigand Scope Mounts and Rings
$5.00
Add To Cart
Single Six Scope Mount other than
Single Six Scope Mount Red Dot Sight